This post may be sponsored or contain affiliate links, which means we may receive a small commission, at no cost to you, if you make a purchase through a link. Read the full disclosure.
If you are beginning to build up a stash of frozen breast milk, you may be wondering, how to store my frozen breast milk the best way?
You may have heard about storing milk in breast milk storage bags vs bottle. Or even.. Storing in a system that lets you pump, store, and feed at the same container.  But, before you decide which storage to use, you need to weigh both the benefit and disadvantage of each choice.
In this article, I will discuss the pros and cons of each storage option thoroughly.
(this post contains affiliate links)
A. Breast milk storage bags
Breast milk storage bag is a plastic bag specially designed to store breast milk. Unlike regular ziplock bag, these storage bags are thicker, made from BPA-free materials, freezer friendly, and can stand warm to nearly hot temperature (for thawing and warming the milk). 
Pros:
Space saving

from stockpiling purpose. If you are building a freezer stash, this is a great option for you. Breast milk storage bag lays flat, and hence can be stacked up on top of another, maximizing the space that you can use inside the freezer.
Faster to thaw. Since the bag is thin, the milk thaws faster compared to milk stored in bottle (which usually needs overnight thawing in chiller first)
No need to wash/sterilize. Milk bags are disposable, you don't need to spend so much time to wash and sterilize them.
Easy to label. If you are stockpiling milk, labeling is a must. You need to label the date and the amount of milk you store in each container. Breast milk storage bag has a dedicated space for that. Thus, it is easier to manage the usage of milk later on.
Cons:
Not reusable. This milk bag is for single use only. That means as long as you need to store your expressed breast milk, you will need to keep buying these bags until you decided not to pump milk anymore.
Bags may leak.  If you got a poor-quality milk bags, they may leak from the seam or from the top zipper. See below for the recommended leak-proof milk bag.

Difficult to pour. 

Depending on the design of the storage bag, pouring the milk to the feeding bottle can be challenging. It may spill (I had experience with this).
More wasted milk. I noticed there is milk left in the bag after pouring and it's kind of difficult to get those last drops of milk. As a mom with just a so-so milk supply, milk wastage is a big no for me.
Cannot pump directly to the milk bags, with the exception of certain brands, such as Medela milk bag.
There are various brands of mother's milk bag in the market, but only a few stands out. Lansinoh is one of the most popular.
A lot of moms love Lansinoh due to several reasons:
Double zipper closure, which is great to prevent leakage.
Lansinoh milk bag lays perfectly flat. This has two benefits: it saves a lot of space in freezer. And it is much easier to thaw and warm because the warming occurs evenly.
Easy to pour. Lansinoh comes with convenient pour spout design that makes it easy to transfer milk from a milk bag to a bottle. It may seem to be a small unimportant thing, but the last thing that you want after putting your energy in pumping milk is to see your milk spilled due to lousy design of the milk bag.
Can hold up to 6 oz, which is just nice for single serving. This really depends on your baby, though, If your baby is a heavy drinker who drink a lot at once, then this may not be for you. But, a typical baby will take maximum 6 oz in a single feeding, or even less.
Learn more about Lansinoh milk bag in this detailed review.
B.Breast milk storage bottles
Bottles, on the other hand, are bulkier than milk bags. It takes so much space in the freezer if you don't organize properly.
However, they are reusable and you don't need to transfer from the bag to the bottle for feeding.
They can get expensive though if you need to buy a lot, say 100 bottles, for stockpiling your milk.
Typically, they don't have a designated place to write down the date of expressed milk (which is important) and the amount of milk. So, you need to use regular sticky labels to label them. I usually paste it on top of the bottle lid.
They are two types of bottles that you can use to store your frozen breast milk. Hard plastic bottles, just like those we use for bottle-feeding, and glass bottles. Here are the pros and cons for each of them.
| | Plastic bottle | Glass bottle |
| --- | --- | --- |
| Reusable | Yes | Yes |
| Breakable | Unlikely | May break with improper handling |
| Long-term use | Last for one baby (after continuous usage for a year, plastic bottle usually developed discoloration, making the bottle yellowish) | Last for multiple babies, glass stays good for years! |
| Chemical content/td> | Must use BPA-free bottle to avoid chemical contamination | Chemical free |
| Weight | Light-weight | Heavy |
| Thawing time | Faster to thaw | Longer to thaw |
| Bottle can be used for feeding | Yes | Depends on brand |
Some famous brands of breast milk storage bottle is Medela (hold 5 oz), Ameda, (4 oz) and Evenflo (5 oz), with Evenflo wins for its most affordable price. If you prefer wide-neck bottles, then Avent breast milk storage bottle is perfect for you. If your breast pump requires narrow bottle (such as Medela, Spectra), you can simply use Avent converter kit to connect your Avent bottle to your pump.
For glass bottles, there are not many options for you. If you decided to buy online, Evenflo classic glass bottle is one of favorite among mothers. Otherwise, you can use mason jars that are ly used to preserve food. Ball Jar, for example, has a 4-oz and 8-oz version.
As for myself, I am pretty fortunate that glass bottles for EBM are very popular here and there are various local companies specifically producing and selling glass bottles for expressed milk.
STORAGE TIPS:
Do the following to maximize your freezer capacity.
Freeze your bottles in standing position.
Once they are fully frozen, combine 3 bottles (following date sequence) into one ziplock bag (or any freezer-safe plastic bag), and lay the bag horizontally.
Next time you have another set of 3 bottles, repeat step number 2 and you can stack one bag on top of the other.
Here's how mine look like in the freezer. Those stacked bottles behind are put inside plastic bags (3 bottles per bag), whereas the bottles in front are fresh expressed milk which are not fully frozen yet. With this technique, I managed to squeeze 80 bottles of EBM (3.5 oz each) to occupy half of my freezer. The other half is used to store frozen food.
C. Other options: one system to pump, store, and feed
Are you dreaming to have one system that lets you pump, store and feed from exactly the same container? While at the same time maximizing space in your freezer?
Well, you are not the first to think about that.
There are several products that do that purpose. The benefit is obvious. One system for all which means less milk transfer, and less milk wasted.
One that I personally tried is Avent VIA system. 
The Avent VIA cup is stackable, maximizing the freezer storage, and even require less space when not in used. It is available in 2 sizes, 6 oz and 8 oz.
I love being able to pump and store directly in this cup.
However, I could not maximize its benefit because my pumping yield was very little. So at the end, I still need to combine a few sessions of pumping outputs. The size of the cup is slightly too big for me, since my baby is not a heavy drinker, but I think for average babies, 6-oz is just nice.
The bonus? I can still reuse my Avent VIA cups even when my baby is already weaned. I use it to store baby porridge (great for first solids), frozen homemade condiments, or container for soup/sauce for my lunch box.
Recently, I've come across a new product which is increasingly popular called Kindee breastfeeding kit.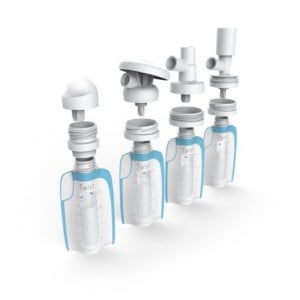 It is a pouch that can be connected directly to various pumps, lays almost flat (except the mouth part), and can be connected to bottle nipple directly.
Sounds like a dream, don't you think so? No wonder so many mothers wished they know about this product soon.
Click here to learn more about Kindee.(PS: It has a starter gift set that would make a great thoughtful present for your new-mom friends).
My Final Thought
Choosing your frozen breast milk storage is highly dependent on your preference (environmental, space saving, cost), how long you plan to pump for your baby, as well as how practical you want your pumping-store-feeding routine to be. I
I hope this article will help you to choose your preferable frozen breast milk storage.
Have you stored frozen breast milk before? Which storage option is your favorite and why?